Salmon Consultancy Products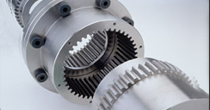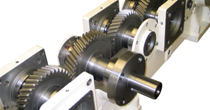 Please Click a Category for more information
GEARS from diameters of 4mm to 14000mm :
MACHINE CUT, GROUND, SHAVED etc.
SPUR (External & Internal)
HELICAL (Single & Double)
BEVEL (Straight, Coniflex, Spiral, Hypoid & Ground - Gleason, Klingelnberg, Oerlikon, Craven etc.)
WORM & WHEEL
SHAFTS,
SPLINED SHAFTS (External & Internal - Straight & Helical)
SCROLL SHAFTS (Diamond Screw) & FOLLOWERS,
LEAD SCREW THREADS,
SPROCKETS - Machined or Cut to any size or form
GEAR COUPLINGS,
BARRELLED TOOTH FORMS,
RATCHET & STAGGERED TOOTH FORMS,
VARIABLE PITCH GEARS,
RACKS,
TIMING BELT PULLEYS,
BRAKE WHEELS,
CROWNING,
TOOTH ROUNDING,
KEYWAYS etc.
GEARBOXES :
SERVICE & REPAIR of most types of GEARBOX
DESIGN & MANUFACTURE of SPECIAL PURPOSE BOXES up to 200 TONS.
RATIO CHANGES
CONVERSIONS TO CASE HARDENED & GROUND GEARS
FULL DESIGN, CONSULTANCY and INSPECTION SERVICE AVAILABLE.
LIFTING COMPONENTS from 1 to 1000 ton handling capacity :
CRANE HOOKS
COMPLETE BLOCK ASSEMBLIES
SHEAVES – Fabricated, One Piece, Forged
RAIL WHEELS for CRANES
LOAD TESTING to 1500 TONS
DESIGN & TECHNICAL SERVICE
CENTRIFUGALLY SPUN CASTINGS to 6000mm Dia., 5000mm Length and 25 tons in the following materials :
COOPER & ALLOYS,
ALUMINIUM,
STAINLESS STEELS .
CONTINUOUS CASTINGS of COPPER & ALLOYS :
BAR
TUBE
SQUARES
HEXAGONALS
CASTINGS to 9 tons in the following materials:
COPPER & ALLOYS
STAINLES STEELS
CASTINGS to 150 tons in the following materials :
FORGINGS in the following materials :
CASTINGS to 70 tons in the following materials :
STEEL & ALLOYS,
STAINLESS STEELS,
SUPER ALLOYS,
TITANIUM
Whether forged to "near-net shape", hot rolled or induction hardened and upset: We offer a specialist service for open die forgings with excellent mechanical properties. We offer small production runs and single items in the product groups:

Bar in round/square/flat dimensions, as well as stepped and profile forged bars
Single piece forged flanged shafts in all lengths
Rings, cylindrical hollows and pierced discs either forged or hot-rolled
Forged discs of large dimensions
Any special shape; according to your requirement
MACHINING & FABRICATION to 18000mm
Proof or fully machined components can be supplied.
REVERSE ENGINEERING MANUFACTURE where samples are available.
This service is advantageous for obsolete parts and those where drawings are not available.